Fundraising in 2019 and 2020 was combined into one round of grants distributed in 2021. This was due to the Covid-19 pandemic in 2020, and the family circumstances of trustees in 2019 and 2020. In identifying recipients of donations for this round of funding, our priority was supporting services to adapt to the circumstances of the pandemic.
If you have any questions about how funds are being distributed, or would like to do some fundraising for us, please get in touch.
Share of funds raised in 2019-20
BRACE

Charity Reg: 297965
£2,500
BRACE supports dementia research at universities in South West England and South Wales, aiming to help medical science understand the causes of dementia, find ways of diagnosing it earlier and more accurately, and develop more effective treatments. Ultimately, they want to help science beat dementia.
We are proud to have supported BRACE in every round of grants since we began. Funding research has always been a priority for us, and we have been impressed by the rigour of BRACE's approach. This grant will be used to continue to help provide a dementia specialist nurse based at the dementia clinic at the Bristol Brain Centre at Southmead Hospital, a post which we helped to fund with donations from 2018. This vital role became even more important during the Covid-19 pandemic, read more about how the funding was used last year.
Together in dementia everyday – Tide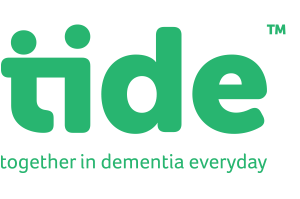 Charity Reg. 1186976
£2,000
Tide empowers carers of people with dementia with the knowledge, skills and confidence to use their lived experience to support the person with dementia to live longer in the community of their choice and delay (or avoid) any need for long term residential care. Their focus is very much on carers being the expert, but with rights of their own too. Tide is actively involved in a range of research projects particularly in relation to care. Tide is a member of One Dementia Voice, the collaboration of 7 major dementia charities working in partnership to campaign for better care and support for all those affected by dementia – particularly during the Covid-19 pandemic.
Our donation will be used to support carers of people with dementia to access a range of digital modules in Tide's Carer Development Programme, including extending sessions to evenings and Saturdays to accommodate working carers. These modules aim to increase the knowledge, skills and confidence of carers to advocate for the rights of the person they care for. Many carers find they have to battle across the maze of health and social care services in order to access the right care at the right time. This can be extremely draining, and can lead to carers feeling isolated and cause their own health to suffer. Tide offers carers opportunities to connect with others in similar situations, forming peer support and developing resilience. Since the start of the pandemic, these services have been delivered digitally, enabling carers from all four countries of the UK to connect in ways that they wouldn't have done before. Carers are also supported in using their lived experience to tell their stories with impact. This can then influence decision makers in policy, commissioning and practice as well as research.
Contented Dementia Trust

Charity Reg. 1088247, Company limited by guarantee 4186558
£2,000
The Contented Dementia Trust aims to promote lifelong well-being for people living with dementia and their carers, achieved through the application of the SPECAL method of managing dementia. The SPECAL method places the well-being of the person with dementia at the centre of care and has been shown to:
Increase the person's confidence and thereby slow the rate of deterioration.
Reduce the need for medication.
Enable the person to remain in their own home for significantly longer.
Minimise the distress all too often seen during and after a transition into a different care setting.
Before the Covid-19 pandemic, the Trust offered a professional training course including direct observation of sessions at their centre in Burford, Gloucestershire. This was restricted to 4-6 trainees a month as part of a two-day course. Over the past 20 years there has been an average of 8 such courses a year. These visits have not been possible since the pandemic started, and so, with out support, the Trust are developing a virtual training experience using their extensive library of film archive footage, supplemented by new footage as needed. This virtual training will be available to an unlimited number of participants across the UK and overseas, enabling a much greater reach for their impactful approach.
Additional grants are in the process of being agreed, details will be added here when they are confirmed.