This will be a short update of our latest, crazy challenge
. 
Documenting the ups and downs of cycling "LEJOG".
Injured and out
We started today with confirmation at the briefing that the group was short one rider. Rob had come off his bike on a wet bend a few days ago but managed to finish the day's riding. After paying a visit to the local doctor in Penrith his tour was called to an end with a torn tendon in his shoulder and he was soon on his way home. Unlucky Rob!
Another member of the group, Angus, has been a real trooper. After taking a day out with knee troubles a few days ago, he has made a big effort to be on the bike. Angus has almost single leg peddled his way through the Scotland crossing and also today's long stint. Ali also managed the tough city section today, a true testament to her grit and determination to see out the tour.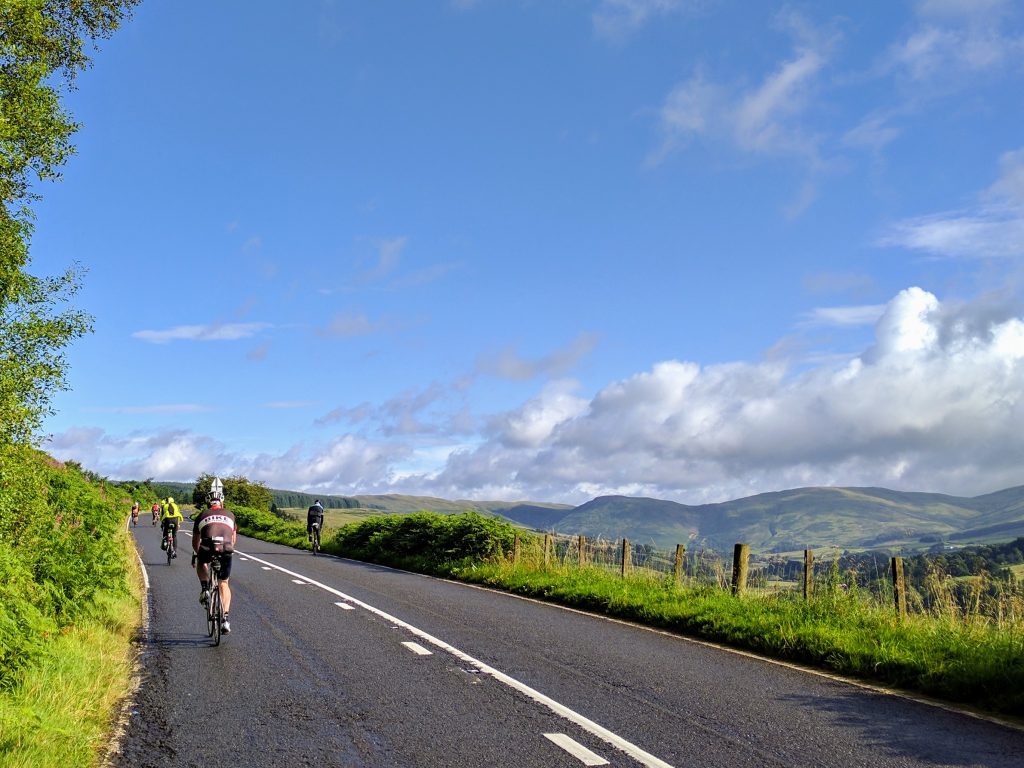 Scenic climb
With a long day ahead we set off as soon as the briefing was over. Within minutes we were tackling the "Devils Beef Tub" climb. Ranked in the top 100 climbs in the UK, with a 300m high climb for 6 miles (10 km). This climb is renowned for having a consistent gradient all the way to the top. It is not overly steep but hard work none the less. The beautiful views over the valleys only improved the further up we got. Eventually on making it over the top of the pass we were rewarded with a long, gradual descent down to the first brew stop.
The climb up Beef Tub was pretty busy as we were joined by cyclists on the London-Edinburgh-London ride as our routes converged. They must have been overjoyed at finding a feed stop on their route. I was not particularly pleased to see them happily helping themselves to our snacks and stuffing their pockets but there was plenty to go round.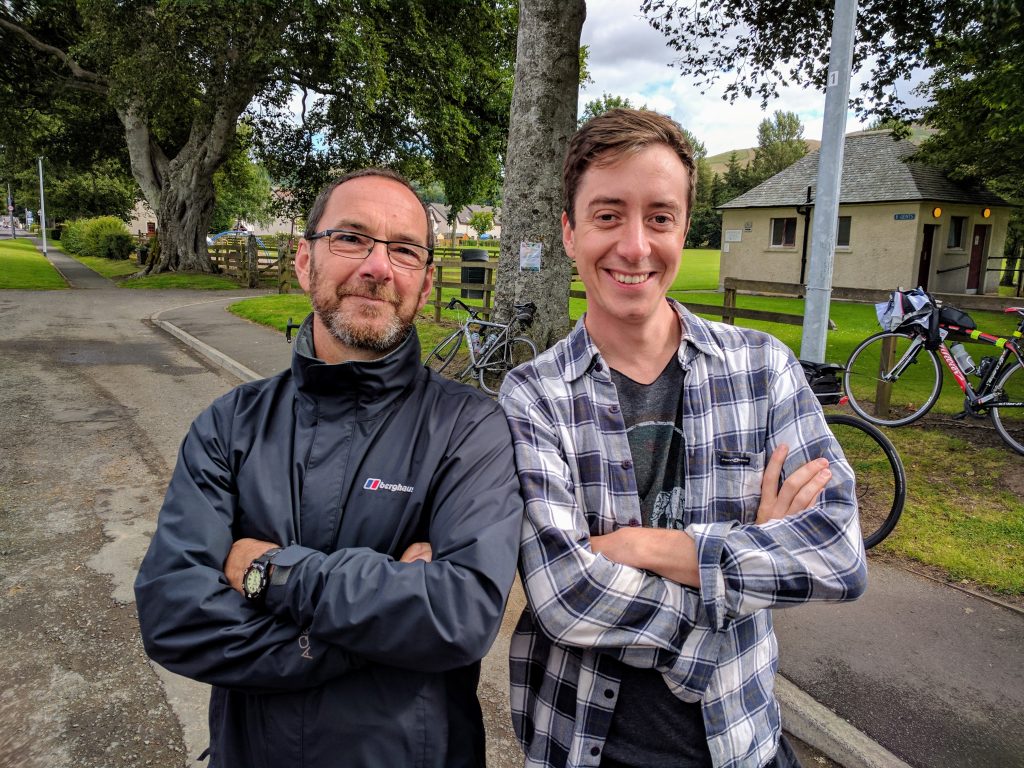 Leavers
Two of the tour guides, Jim and Sam, left the tour today. They were both required on another tour which was a shame as it would have been good to finish with them both around.
Sam was very handy in the maintenance department, especially with the multiple issues that have cropped up with my bike over the last few days. He did have trouble when it came to test riding my bike. Being 6'3″ you can imagine my saddle height might give a shorter person a bit of trouble.
Jim was very particular with his brew stops and took great pride in keeping things tidy. Often presenting the snacks with local flowers (take note Dan and Dave). Thanks must also go to Jim for the botch job on day 1, sorting out a frayed gear cable which is holding nicely and should see me through to the end of the tour.
Edinburgh hustle
We carried on our way to lunch and arrived in quick time. Soup is always a treat, especially after having a cool, wet morning. Not long after we made our way to Edinburgh. The scenic mountain views quickly changing to suburbs, then city. Cycling through the heart of Edinburgh at lunch hour was very busy. With a major festival in the heart of the city imminent, there were a few diversions to our route which slowed our progress somewhat. I did enjoy the city cycling which reminded me of my commuting days in London, weaving traffic and racing buses. Although the "Buffalo" (my touring bike) is not quite as nimble as my commuting bike. Laura just about managed to keep up, with some of the cobbled streets keeping speed to a minimum.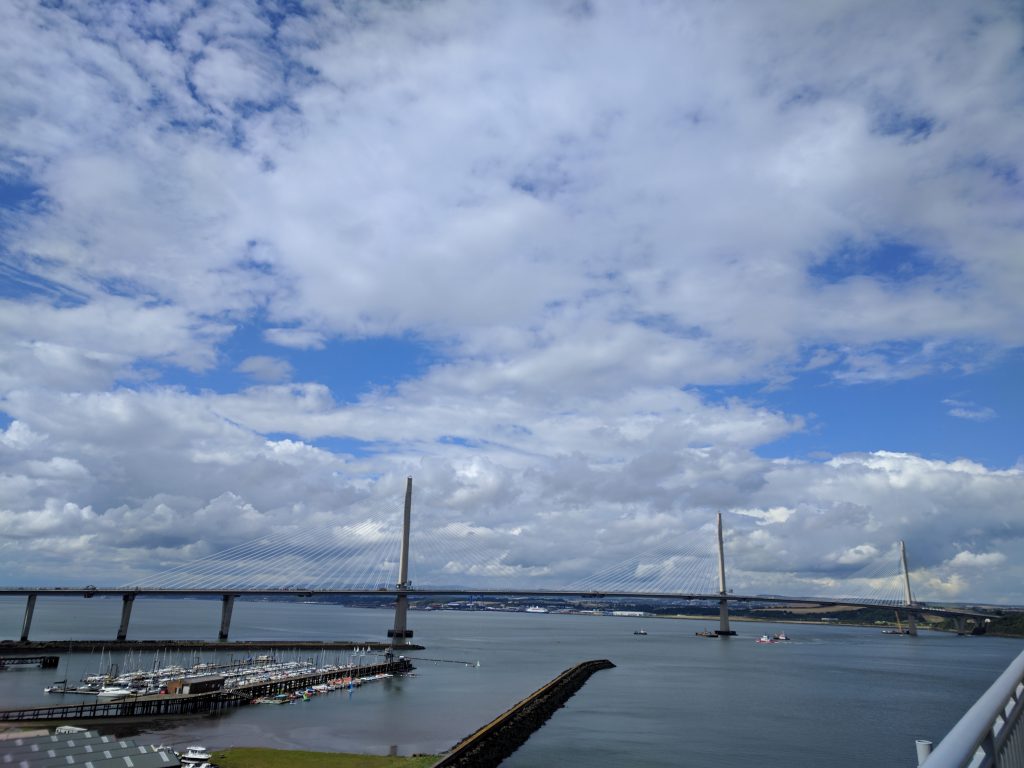 Firth of Forth
We were soon through the city and headed out on a disused railway line towards the firth crossing. Once on the bridge with a clearing of intermittent showers  there were fantastic views in all directions. Fortunately it was not as windy as the Severn crossing into Wales. Coming off the bridge involved another tricky bit of navigation through various road works and diversions and the final brew stop was a welcome break.
The final stretch involved a few short climbs as we headed away from the firth. Not long after we pulled into the hotel in Kinross and made use of the swimming pool and jacuzzi to unwind and relax stiff muscles.
It was a long day with some tricky navigation but ready for a tougher day tomorrow.
Route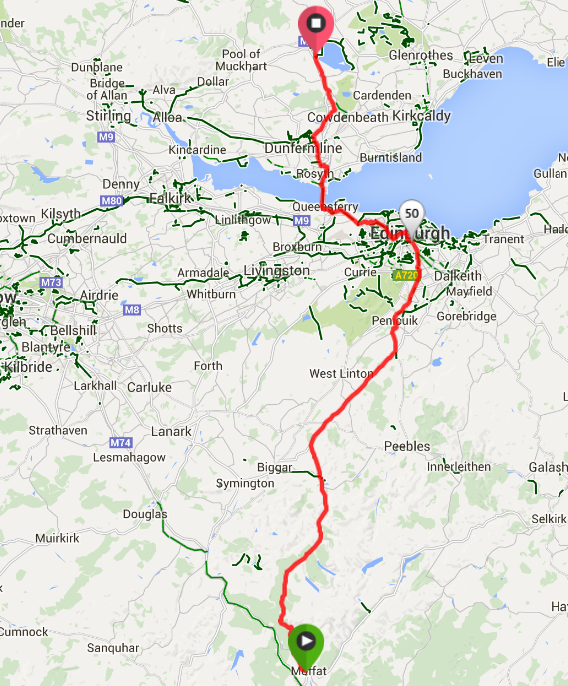 Profile

Please consider sponsoring our efforts. Every penny really does make a difference. 
We need your help to raise awareness. Please consider sharing this post.