Read the blog updates of the challenge here.
In July we will be undertaking the great End to End challenge, otherwise known as Land's End to John O'Groats. Revered as one of the ultimate cycling challenges in main land Britain, the aim is to cycle from the southern most tip at Land's End in Cornwall all the way to the northern most point at John O'Groats in Scotland. A measly 1000 miles by bicycle with promise of lots of hills, country pubs and the great British weather.
The route averages out at around 60 to 80 miles per day, which means between 5 to 7 hours in the saddle, for 14 days.
Sponsor Land's End to John O'Groats Challenge
Not quite as quick as Mark Beaumont – the Scot who cycles around the world for fun. He completed "LEJOG" in 8 days as part of his round the world training.
And what is even more impressive is he took the scenic route, quite literally following the coast line along the west of the country. He finished a full lap of the country in only 14 days.
Fortunately we are not racing so we can take a more "leisurely" pace, and more direct route up the country. This should allow us more time to enjoy the scenery, country roads and importantly, the village pubs.
Route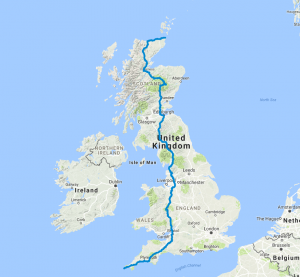 Click on the image for a detailed description of the route.
We are undertaking the challenge with Peak Tours who have mapped out the route and organised accommodation. We have found in previous multi-day cycling challenges that dealing with logistics, especially whilst spending 80 miles in the saddle, can be a major headache. So leaving it in the capable hands of a professional tour company really does make a difference. This also means we can enjoy the challenge as part of a larger group.
* This challenge is completely self funded – every penny of sponsorship will be directed to where it can best be used in the fight against dementia. Updates of how the funds are distributed will follow at a later date.
Training
Needless to say, we have been hard at work in preparation for the challenge. We have completed several sportives and bike rides of varying distances, not only adding miles in the legs but also contributing to our main goal for 2017, the Round the World challenge.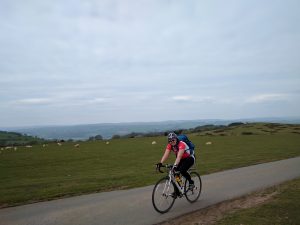 Laura on a training ride in Wales.
Reason
Let's not forget the reason for undertaking this challenge. It is to raise awareness and funds in the battle against dementia. Have a read of our blog where our trustee Helen Wright has included some touching personal stories.
Sponsor Land's End to John O'Groats Challenge
Please check back here for updates on Land's End to John O'Groats cycle challenge and follow us on social media where we will post updates during the challenge.
Instagram | Twitter